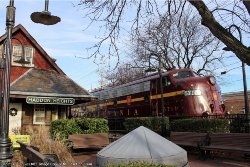 Welcome to the RRPictureArchives.NET contributor site of John Danielson.



Thanks for checking out my page! Mostly featured here are photos from southern New Jersey. Pavonia Yard in Camden is the main hub in the area. This is Conrail Shared Assets (CSAO) territory and local trains may have both CSX and NS power combined. CSX and NS manifests arrive daily from Allentown, PA and Selkirk, NY, as well as Philadelphia, often with foreign or leased power in the consist. Passenger service in the area include New Jersey Transit's Atlantic City Line, River LINE and the PATCO Hi-Speed Line. Four short-lines operate daily in southern NJ, all with interesting power. They are the Southern Railroad of New Jersey, Winchester & Western, SMS Lines, and the Cape May Seashore Lines.


--------------------------------------------------------------

Please check out my YouTube channel-

http://www.youtube.com/user/Manatree1?feature=mhum

South Jersey Trains Facebook page-

https://www.facebook.com/southjerseytrains/






You may browse my collection of pictures via the menu located on the left hand side of the page. I hope you enjoy the collection and thanks for stopping by!